The procedure of perfume making
The procedure
I often equate the art of blending aromatic plant materials with a musical ensemble, due to the similarity composing in harmony. In both cases ,the "orchestration"brings the best results.
Anything can be a source of inspiration when creating aromatic synergies.
For example, a favorite song, color or picture, nature's landscapes or even human virtues.The process in which the aromatic notes are blended from the beginning is the foundation for a divine perfume.Perfumes can also be positively affected by its surrounding energies and vibrations as it ages. It's important to love your perfume in order for it to reach its full potential! Blending a divine perfume requires knowledge of science and chemistry, still enough intuition for the beautiful process of alchemy.
Let's take a walk through nature's magical garden!
Our perfumes
You can always choose from the Nymphaea blends that are available in our e-shop, or you can indulge yourself with your own customized perfume made to meet your personal needs.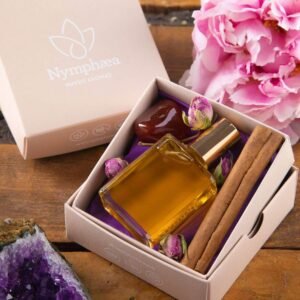 5.00

€

– 98.00

€
Select options